Just Try To Watch This Baby Stretch Without Smiling
Just Try To Watch This Baby Stretch Without Smiling
Hands down ― er, up? ― this baby's got the best wake-up routine. 
A 5-month-old's adorable stretch is spreading joy around the world thanks to a creatively edited video that gives him some surprise dance moves.
The swaddled baby, whose name is Kaden, is seen being gingerly unwrapped by his father before he shoots his newly freed arms into the air in a deep stretch. Songs like Naughty By Nature's "Hip Hop Hooray" and the Village People's "Y.M.C.A." play perfectly in sync with his moves.
"He's been doing that basically ever since he was born," his father, Kent Siri of Boston, told The Huffington Post on Monday of his son's endearing moves. "It's almost like he has springs in his arms because they pop up like that."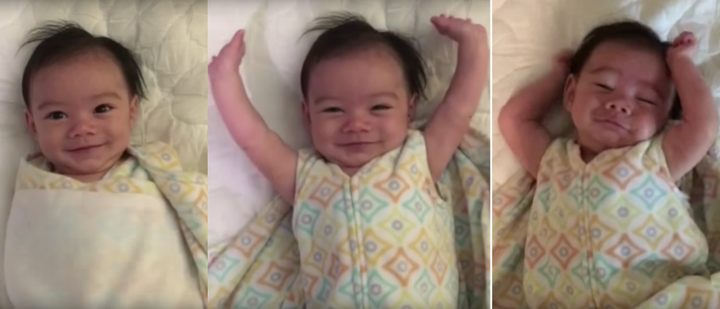 Siri said he started filming and posting short clips of his son's routine to Facebook last week, initially just for family and friends.
Then he said he thought: "You know it's so funny and so quick and he does it with such precision that it'd be funny to synch it up with some music clips or movie quotes."
For the most part, public response has been extremely heartening, Siri shared, but there have been some people who have expressed concern for Kaden's mobility.
Siri insists that Kaden is perfectly happy while swaddled in the blanket, which helps him sleep through the night.
One key benefit of swaddling for Kaden, Siri noted, is that the baby has a strong startle or Moro reflex, which causes him to jolt unexpectedly, waking him up. That constant disruption impacted the amount of sleep he was getting and ultimately his development.
There can be some risks if a child is wrapped too tightly or in an uncomfortable position. The non-profit, medical research group offers a step-by-step guide on how to avoid this on its website.
As for whether Kaden's fans can expect any more videos, his father said, "We'll see where it goes."
"We have always thought that he's a cute kid and it's nice to know as parents that other people are into it," he added.
Published at Mon, 10 Apr 2017 21:21:20 +0000