Video Shows Officers Recovering Missing Toddler In Bushes Near Home
Video Shows Officers Recovering Missing Toddler In Bushes Near Home
A desperate search for a missing 2-year-old boy had a happy ending when officers found the child just blocks from his home in a remarkable moment that was captured on video.
The little boy named River, whose mother had described him as "extremely mobile," was found curled up in blackberry bushes about two blocks from his family's apartment in Portland, Oregon, on Saturday, authorities said in a press release.
A K9 named Eva was credited with leading officers to the child just before noon. After a nearly six-hour-long search, River was taken to a hospital for exposure to cold temperatures and scratches from the bushes, police said.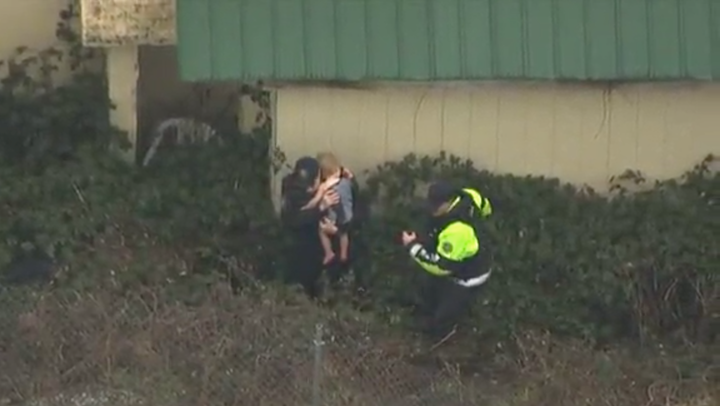 The search for River began around 6 a.m. Saturday when his mother called 911 after waking up to find her child missing from her bed, police said.
The child's parents, speaking to Oregon Live, said they weren't initially allowed to see their son before he was transported to a hospital. They expressed both relief and continuing horror at what happened.
"I'm pretty beside myself. I'm devastated. I'm scared," River's mother, Hollian Markusen, 27, told the local website. "My son was lost. My beautiful, 2-year-old boy who I've never been away from for more than a couple of hours his entire life." 
The child's father, identified as Aaron Schomaker, 28, told Oregon Live that he returned to their second-floor apartment from his bartending job just before 5 a.m. and went to sleep in another room. He woke up not long after to the sound of Markusen screaming.
Schomaker suggested that his son managed to slip out of their apartment and out a ground-floor entry to their apartment's building.
Authorities, who continue to investigate the case, urged parents to take extra precautions to ensure that something like this doesn't happen again.
"This is just a really good reminder for parents out there, if you have little ones, get those child locks," Police Sgt. Jeff Helfrich said at a press conference, according to KOIN-TV. "Put those on there. Pay attention to your kids if they wander around because these things happen. You may not think it happens to you, but it will."
As part of standard procedure, the Oregon Department of Human Services has been asked to review the case, police said.
Published at Sun, 19 Feb 2017 22:49:12 +0000